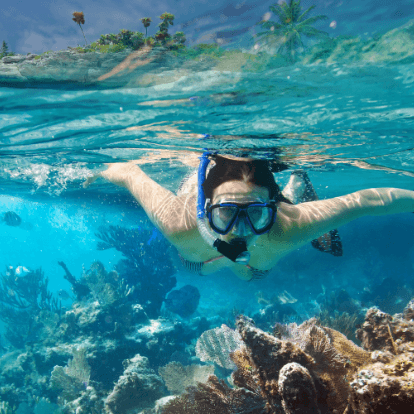 Snorkeling
Beach & Water Activities
The frequency and duration of the activities are subject to change without notice. Please refer to Front Desk, Concierge, or Pool Concierge to schedule your favorite activity during your stay.
From 10:30am to 3:00pm
Garza Blanca Beach
Daily
Free
---
This activity is perfect for practicing your snorkeling skills. You can borrow snorkeling equipment daily from the activities hut located on Garza Blanca Beach. If you have never snorkeled before, you will be shown how to use the snorkeling equipment correctly. You can borrow the equipment for 30 minutes and try to spot marine life in areas close to the beach. The visibility varies depending on the water conditions and the season.
As this area is not close to a reef, you won't see that many fish, but it's a great opportunity to test your snorkeling skills before taking the Kayak and Snorkel Tour to Los Arcos, which is teeming with colorful sea life (also a complimentary resort activity). You may use the resort's snorkeling equipment for free throughout your stay.