All Inclusive Package
PUERTO VALLARTA
Enjoy the finest cuisine and services with Garza Blanca Preserve's exclusive All Inclusive Package. Indulge in all inclusive vacations in Puerto Vallarta, Mexico, gourmet-style!
More than just luxury suites and amazing 5 Star hotel amenities, at Garza Blanca Preserve you can enjoy one of the best all inclusive family vacations at one of the best all inclusive resorts in Puerto Vallarta, Mexico. Take a closer look at what this luxury beach resort has to offer and how it compares to the top all inclusive hotels in the world.
What's Included in this Puerto Vallarta All Inclusive Resort?
Gourmet Dining
Mouthwatering menus and artistic presentation inspire an exquisite gourmet vacation. With a vista and service for all occasions, your dining experience is complemented at every turn by magnificent views of Banderas Bay.
mapView map of Restaurants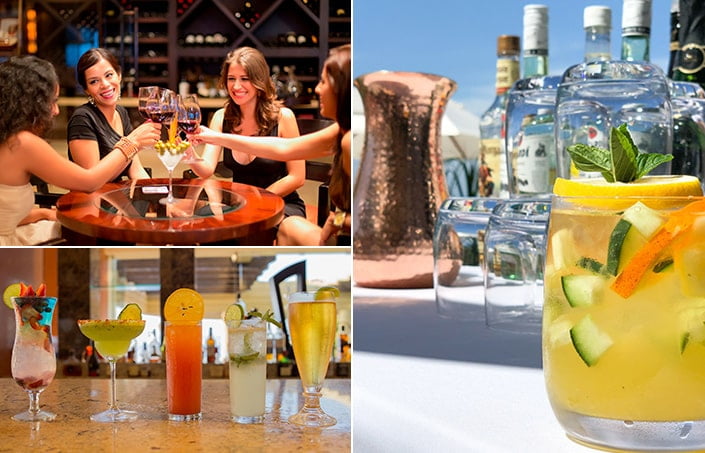 Alcoholic drinks and wines by the glass included from a select variety of local & international brands at the resort restaurants and bars from 10.00 am to 1.00 am, as well as flavored water and regular soft drinks, standard tequilas, house brands, soft drinks, chilled juices and local mineral water.
Bottled drinks are not included. Only house wines and House Premium liquors are included in the all inclusive vacations package. Other wines and Golden Premium or Elite Brands will be charged accordingly.
Activities and Entertainment
Onsite at Garza Blanca, one of the best all inclusive resorts, Puerto Vallarta, Mexico, you can enjoy all kinds of activities included in your all inclusive family vacations, such as birdwatching tours, gentle jungle hikes to the river, paddle board lessons and yoga classes or enjoy the chef's Catch of the Day, the mole festival and tequila tasting and many more activities.
Garza Blanca Preserve also offers a complimentary tropical city tour in addition to a kayaking and snorkeling expedition to Los Arcos landmark. Just what you'd expect from one of the best all inclusive hotels in Banderas Bay.
picture_as_pdfView Activities Program
In-Room Amenities
Top brand bathroom amenities. Bathrobes, slippers (for your use while staying at Garza Blanca). Welcome coffee kit on the day of your arrival.
In-Room Services
Daily maid and Turndown Service. Preparation of jetted tubs (once per stay and according to type of unit). Safe deposit box.
Hotel Amenities
Selection of books, national/international magazines and journals. Towels and pool amenities are available.
Hotel Services
Personalized check in and Concierge service. Valet Parking service and private security 24/7.
Room Service
Room service from 7am to 11pm. Deluxe servibar: 2 mineral water, 2 regular coke, 2 coke light, 2 sprite, 2 Corona beer, 2 Pacifico beer.
 View menu
Unlimited Access
To the gym, pools and outdoor jacuzzis (according to pool schedule).
Taxes and services
Tax, service and gratuities included (individual tips welcome).
The Best All inclusive vacations in Puerto Vallarta! check_circleBest Price Guaranteed
hotelflight Hotel + Flight
All inclusive From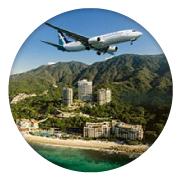 hotel Hotel Only
All inclusive From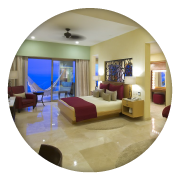 Telephone calls
Laundry and dry cleaning service
Ironing service
External activities and tours
Spa services/treatments
Additional coffee kits have an extra cost
Golden Premium minibar
Cigars and cigarettes

Additional services

Special tasting menus

Additional tips authorized and signed for by guests
National and international Golden Premium brands
Wine from the cellar selection and bottled drinks ordered at the bars

Food ordered as "take out" from the restaurants

Specialty dishes or delicacies

Internet service

Transportation: Airport to Resort / Resort to Airport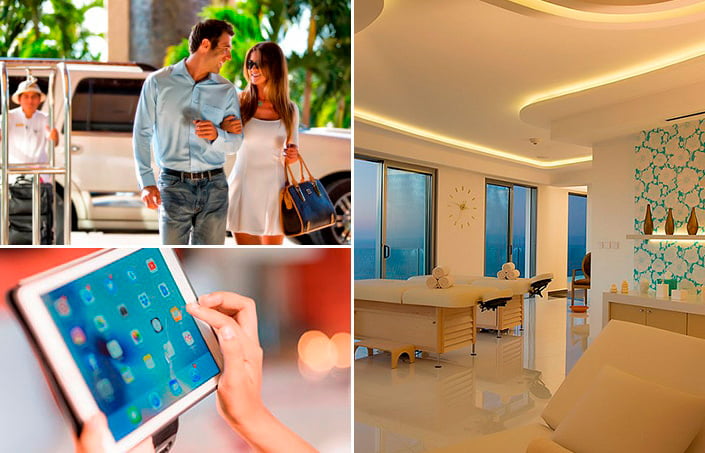 Terms and Conditions
Check out is at 11am, at which time All Inclusive privileges terminate. Purchases at the restaurants or bars after this time must be paid for with a credit/debit card directly at the restaurant or bar.
This all inclusive vacations program cannot be combined with any other promotion offered by Garza Blanca luxury beach resort, Puerto Vallarta, Mexico. Discounts applied to the All Inclusive plan cannot be combined with other packages or promotions.
You must wear and show your all inclusive bracelet at all times and sign a check each time you order any food or beverages. All checks must be signed for by a registered all inclusive guest every time you order food and beverages. Each order included on the check must apply to you or a guest in your party covered by the All Inclusive package. Food and beverages may not be passed to other guests.
Although tax and gratuities are included in this all inclusive vacations plan, should you desire to leave an additional tip, you may do so. Please note that any tips you add to your check will be charged separately to your account. The all inclusive food plan starts at 16: 00 pm on the day of your scheduled arrival and continues until your last day at 11: 00 am. (These times coincide with the official check in/check out times).
Please note that we reserve the right to refuse service to obviously intoxicated guests or guests not observing house rules.
The bracelet and the package are for personal use and are non-transferable. Misuse will result in your privileges being revoked without any refund.
Once bought, the all inclusive package cannot be cancelled and no refund will be given. If the bracelet is not returned on the day of check-out, a penalty of $110.00 USD will be charged per bracelet. All inclusive vacations packages are only available to guests staying at the Garza Blanca Preserve Resort.
The all inclusive package must be for all guests in your room and/or in your party.