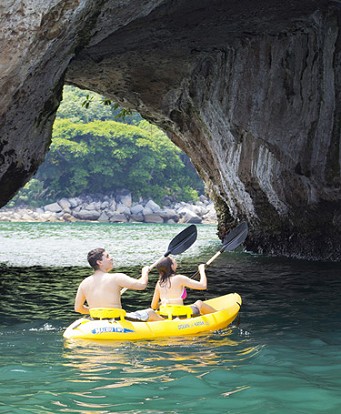 Kayak & Snorkel Tour to Los Arcos
Beach & Water Activities
The frequency and duration of the activities are subject to change without notice. Please refer to Front Desk, Concierge, or Pool Concierge to schedule your favorite activity during your stay.
2.5 hours
Garza Blanca Beach/Los Arcos
Daily 8:00 AM (24 Pax per tour)
Free
---
This guided tour departs daily from Garza Blanca Beach, where you will meet and be fitted out with a kayak and snorkeling equipment. Explore the stunning Banderas Bay coastline by kayak as you make your way to Los Arcos National Marine Park, a stunning rock formation that rises from the sea just a short distance off the coast. Here you will have the chance to swim and snorkel around the coral reef where you can spot a variety of sea life including tropical fish, eels, octopi, and even sea turtles. Your guide will explain all about this nationally-protected area and the kinds of fish and birds that can be found there.
This tour is approximately a 2.5-hour return trip with a total distance of 8Km or 5 Nautical Miles. The minimum age for this tour is 12 years old and minors must be accompanied by an adult. Participants must be able to swim. Don't forget to wear your swimsuit and apply sunscreen. Reservations are required.