Blanca Blue Restaurant

On the cutting-edge of delicious fine dining
Blanca Blue Restaurant and Lounge at Garza Blanca Resort & Spa showcases elegant avant-garde fine dining experiences where delicious Mexican flavors take center stage to surprise as well as satisfy the taste buds with creative flair.
The oceanfront award-winning venue in Puerto Vallarta is a contemporary gourmet restaurant dedicated to the ever-evolving culinary arts and latest trends in gastronomy where experimentation, cutting-edge techniques and avant-garde cuisine come second only to high quality local products and mouthwatering flavors for one-of-a-kind sensual dining.
Cuisine

Mexican Renovated Cuisine

Dress code

Collared shirt, polo shirts, dresses, skirts, casual shoes, dress sandals.
HOUR

7:00am to 11:00pm

Breakfast 7:00am to 12:00pm,
Lunch 12:00pm to 4:00pm,
Dining 6:00pm to 11:00pm
Bar 7:00pm to 1:00am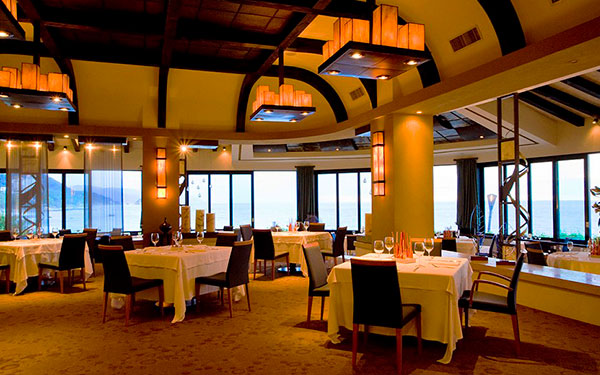 Innovation
Mouthwatering
Innovation and Fine Dining
The kitchen at Blanca Blue is a more like an art lab where teamwork, collaboration and experimentation come together to create sensory and emotional experiences in artistic ways. The process of crafting novel culinary encounters is at the forefront of the restaurant's mission dedicated to the constant evolution of flavors.
Atmosphere
Elegant
Oceanfront Dining
The atmosphere at Blanca Blue is refined and elegant yet pregnant with the expectation to be surprised and delighted by new experiences. Offering amazing views of Banderas Bay, Puerto Vallarta and the Los Arcos natural landmark, the restaurant's stunning architectural design and undeniably beautiful natural surroundings set the stage for an unforgettable romantic evening, a unique social gathering or a family meal.
The main fully air-conditioned dining room can accommodate up to 90 guests, and the terrace with its flaming torches a further 32 diners. First class service at Blanca Blue is warm and inviting to provide a relaxed ambiance that allows for delicious experimentation.
Wine List
Quenching your thirst
with the finest beverages
Our award-winning wine cellar boasts more than 2,300 bottles and was chosen as the Vallarta Lifestyles Readers' Choice for top wine cellar in Puerto Vallarta in 2010. We focus on premium, artisan Mexican wines but also offer a fine selection of imported wines from around the world, including France, Spain, Italy and new world wines.

When it comes to tequila, what better way to complement Mexican avant-garde cuisine than with a sophisticated collection of the finest tequilas Mexico has to offer. With over 100 premium brands of tequila, Blanca Blue has been certified with the renowned Distintivo T "Agave de Oro" award. The Distintivo T program also trains and qualifies venues and staff to offer knowledgeable and unique tequila experiences.

s