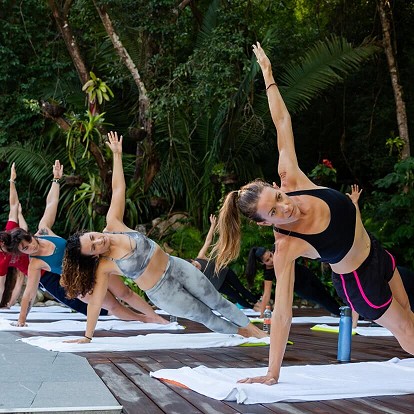 1 hour
Meet in the lobby
Two times per week
Free
---
Connect with your inner-being while toning your body and stretching your muscles with Vinyasa, Yin yoga, stretching, or restorative yoga (rotating program). Join our expert yoga teacher, Procoro, in the art of relaxation, meditation, and yoga positions. With an idyllic location on the deck at TierraLuna Village, your daily yoga routine will be an exercise in the sublime enveloped by tropical jungle with stunning views of the bay and Los Arcos.
You will encounter the world of deep relaxation and well-being while immersed in natural beauty through a combination of meditation, different yoga postures, and breathing techniques. Through manipulation of your breath, you will learn how to control your body, calm hunger and thirst, as well as cool down your body temperature.
Procoro is no ordinary yoga instructor, he is an expert with years of experience in various types of yoga as well as Kundalini philosophy, the Pneuma System, and Reiki. His insightful publications in a number of Mexican magazines and journals about well-being, yoga and philosophy, complement his radio program The Art of LIving on C7 Jalisco Radio.