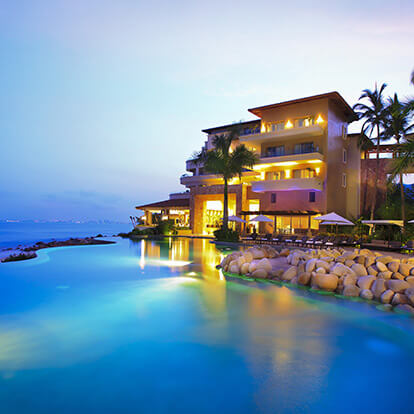 Request A Quote
Now, it's easier than ever to get a customized quote for a luxury vacation at our 4 Diamond oceanside resort.
Searching the best rates for you... Please, do not reload this page.
We have not found any availability
Please try again with other dates.
Resort Amenities
Kids Club

Let the little ones be entertained in the Kids' Club with books, games and movies, while you enjoy a massage!

Gourmet Restaurants

Try Blanca Blue's authentic Mexican haute cuisine, Hiroshi's exciting Japanese fusion, or BocaDos' mouthwatering selection of premium steaks.

Fitness facilities

Garza Blanca has a full service gym with free weights, circuit machines, treadmills and more, as well as yoga and other wellness classes offered regularly.

Room service (24 hours)

One of the best ways to pamper yourself is to order in! Take advantage of 24/7 room service at Garza Blanca.

Read more
In-Room Amenities
Daily Housekeeping Service

Our Housekeeping team ensures your room is sparkling, five-star clean on a daily basis.

Wired high-speed Internet access

High-speed internet access throughout the property allows guests to effortlessly stay connected to the outside world.

Air conditioning

Stay cool and comfortable with air conditioning that lets you control the temperature.

Premium television channels

Watch all your favorite programs with a premium selection of TV channels.

Read more
---
Guest Reviews & Experiences
IN THEIR OWN WORDS
Read what visitors have to say about Garza Blanca Resort and Spa's luxurious accommodations, creative cuisine, and unique location along Banderas Bay. Start looking forward to your stay today!
Mr
B5325UFrauls
From tripadvisor
Bocados is the best.
Graceandtruth
From tripadvisor
Amazing service and beautiful amenities
daniellegE2615TW
From tripadvisor
Danayan Hermene
hermened
From tripadvisor
Relaxing vacation, attentive poolside service and amazing views
846rupap
From tripadvisor